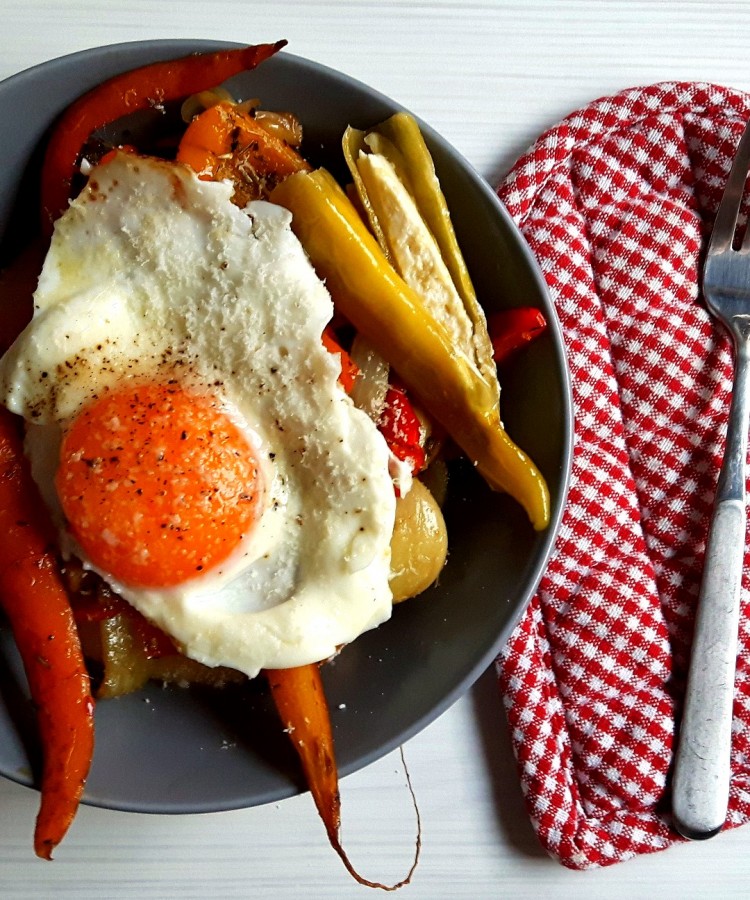 Polenta, vegetables and eggs – a happy triangle

If you'd say that polenta, "mămăligă", as we call it around here, is our national food, you'll make no mistake. I don't speak for the rest of the country, but here, in Transylvania, people eat a lot of polenta. Instead of bread in many cases.
My mother is one of these people and many times when she invites us over for lunch or dinner, she asks us "Would you want me to make some polenta too?" Well, the answer, my answer on that question is usually a "No", because I'm not crazy about polenta. Anyway, with this…let's call it side dish, is the same as with the lettuce soup. You either like it, or not.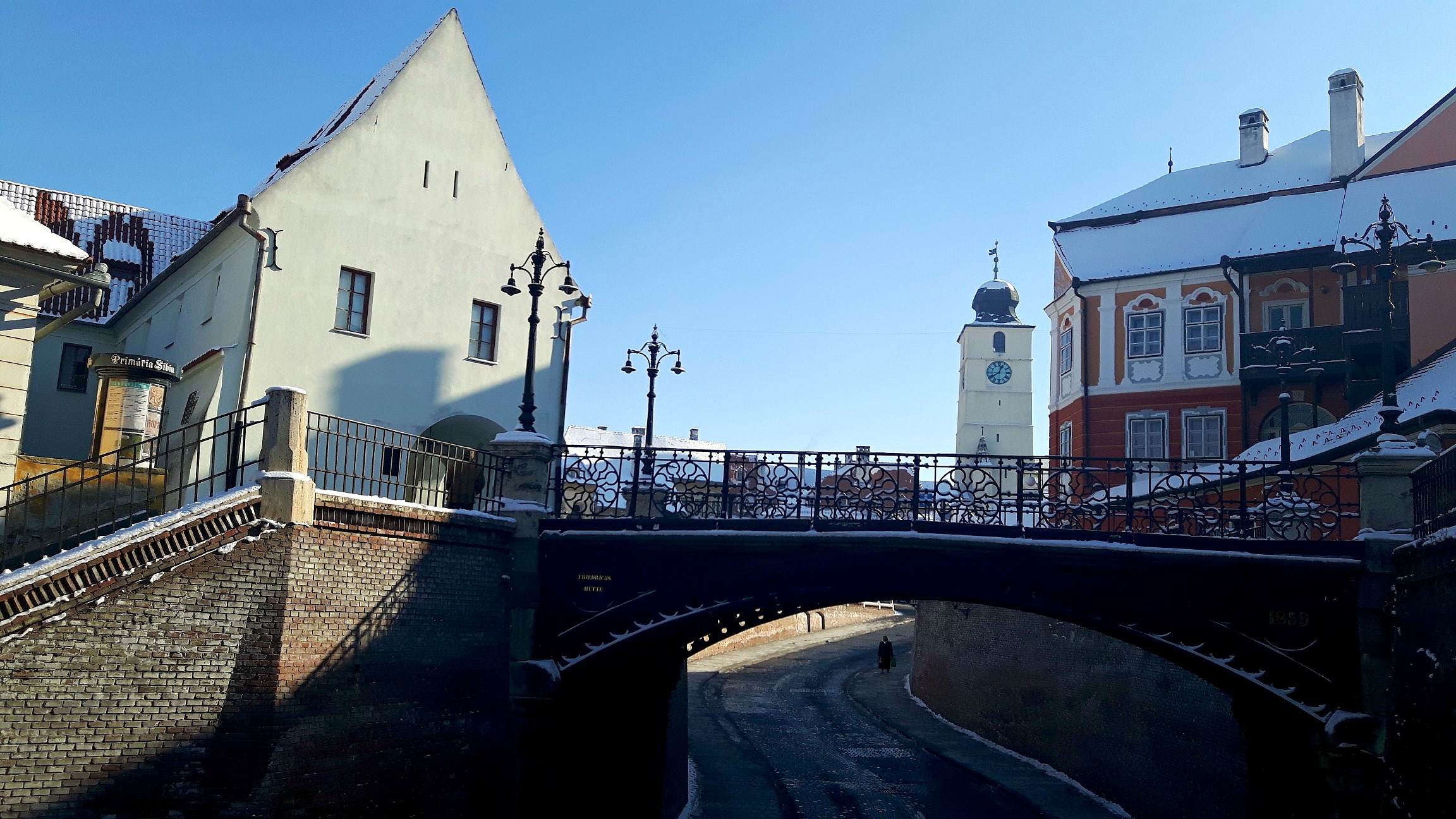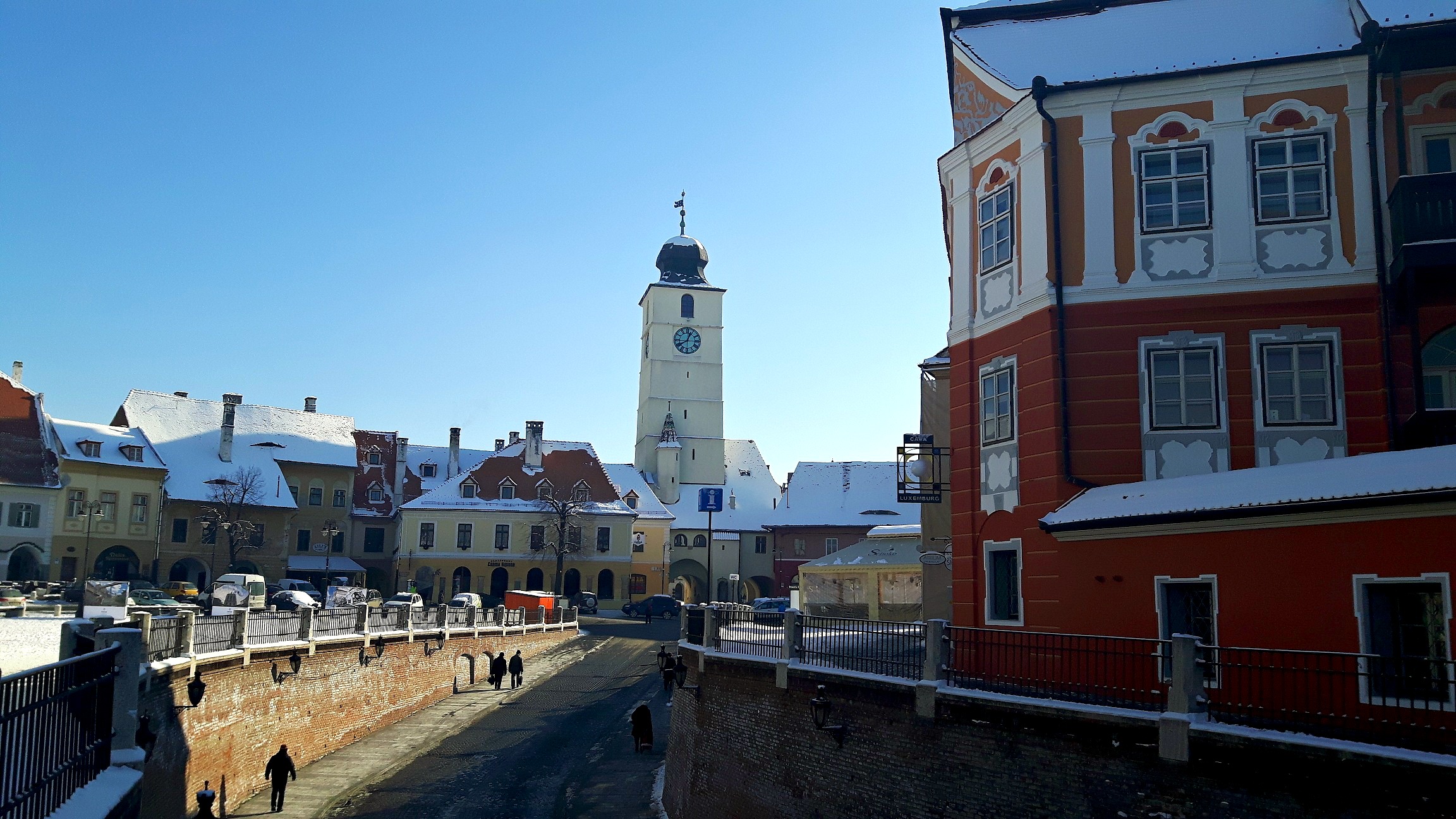 But I guess I am a weird one, because sometimes I love it, and other times I hate it, but my attitude depends on the dish I'm eating polenta with. For instance, the favorite Transylvanian way to eat polenta is with cheese and sour cream, especially that my county is known as some kind of a "cheese country". There is an abundance of shepherds, sheep and sheep's milk, so the cheese is fat, especially that we are making (well…not me exactly) "telemea" – a kind of cheese very similar to feta, caș – a sweet matured cheese, and many types of cheeses. Sweet, salty, smoky, matured or not.
No, our cheese is not fine or sophisticated like others'. Transylvanian cheese is as simple as possible, almost as mother nature let it. So the taste is pure and simple. Sometimes sharp if the cheese is matured enough. But always tasty.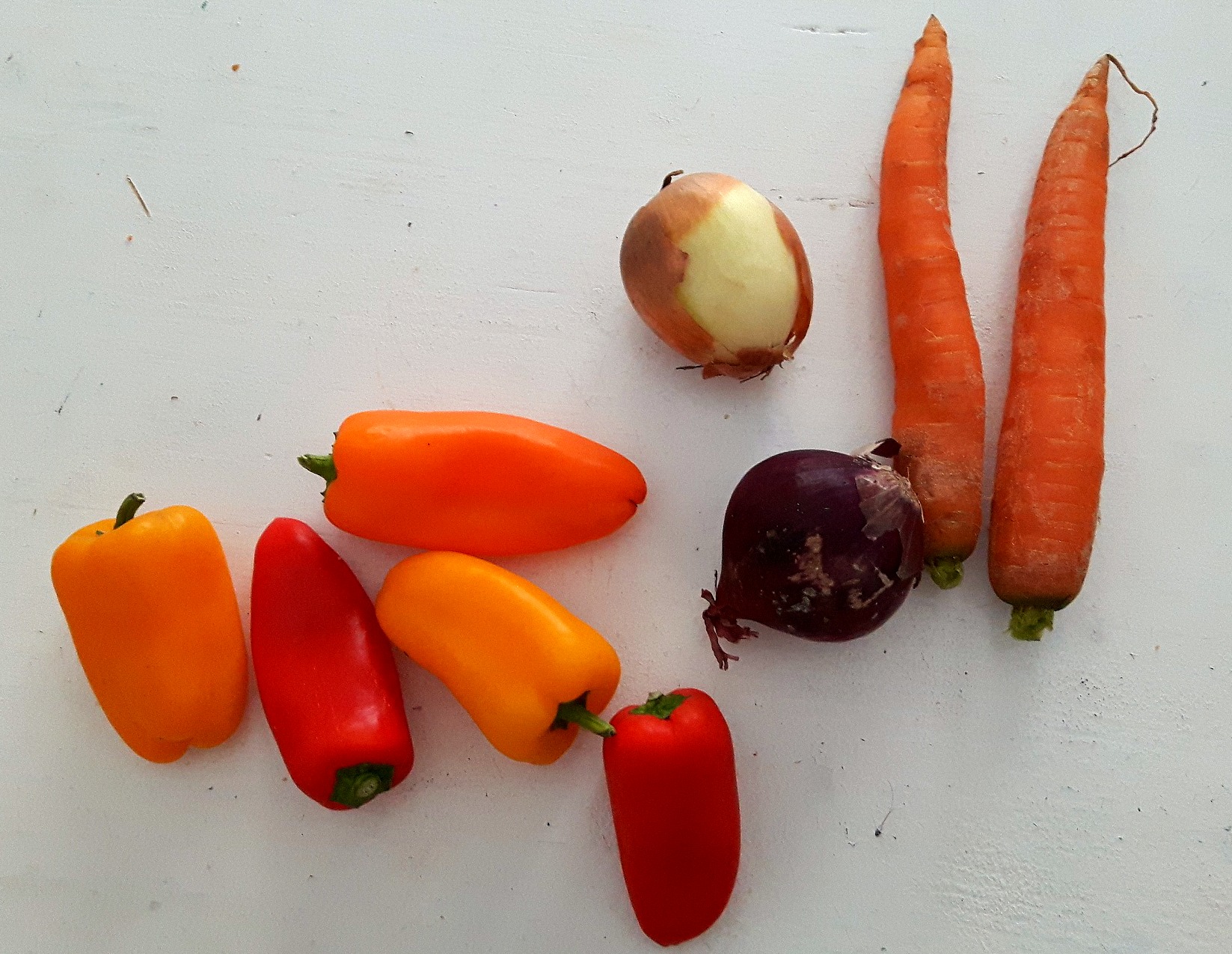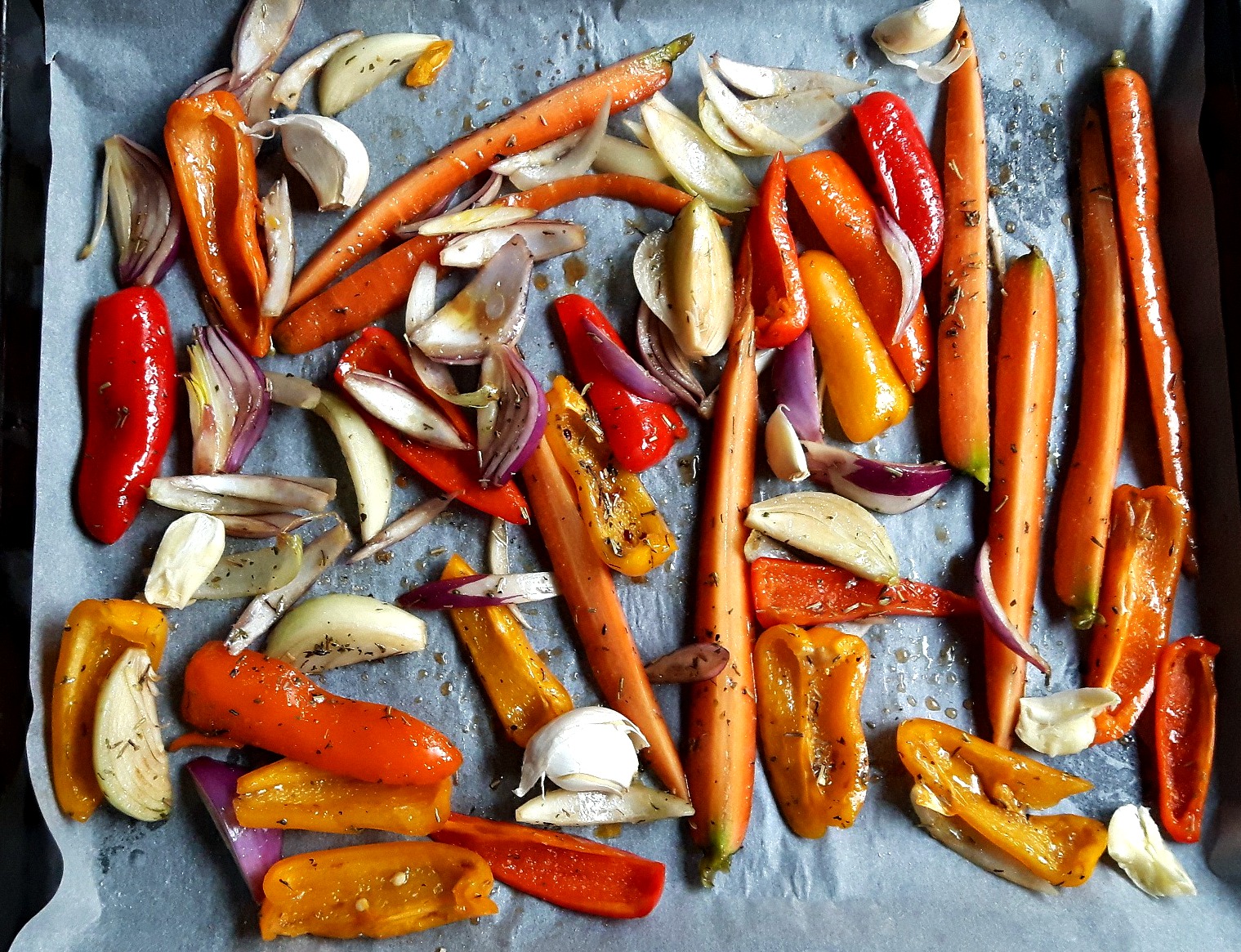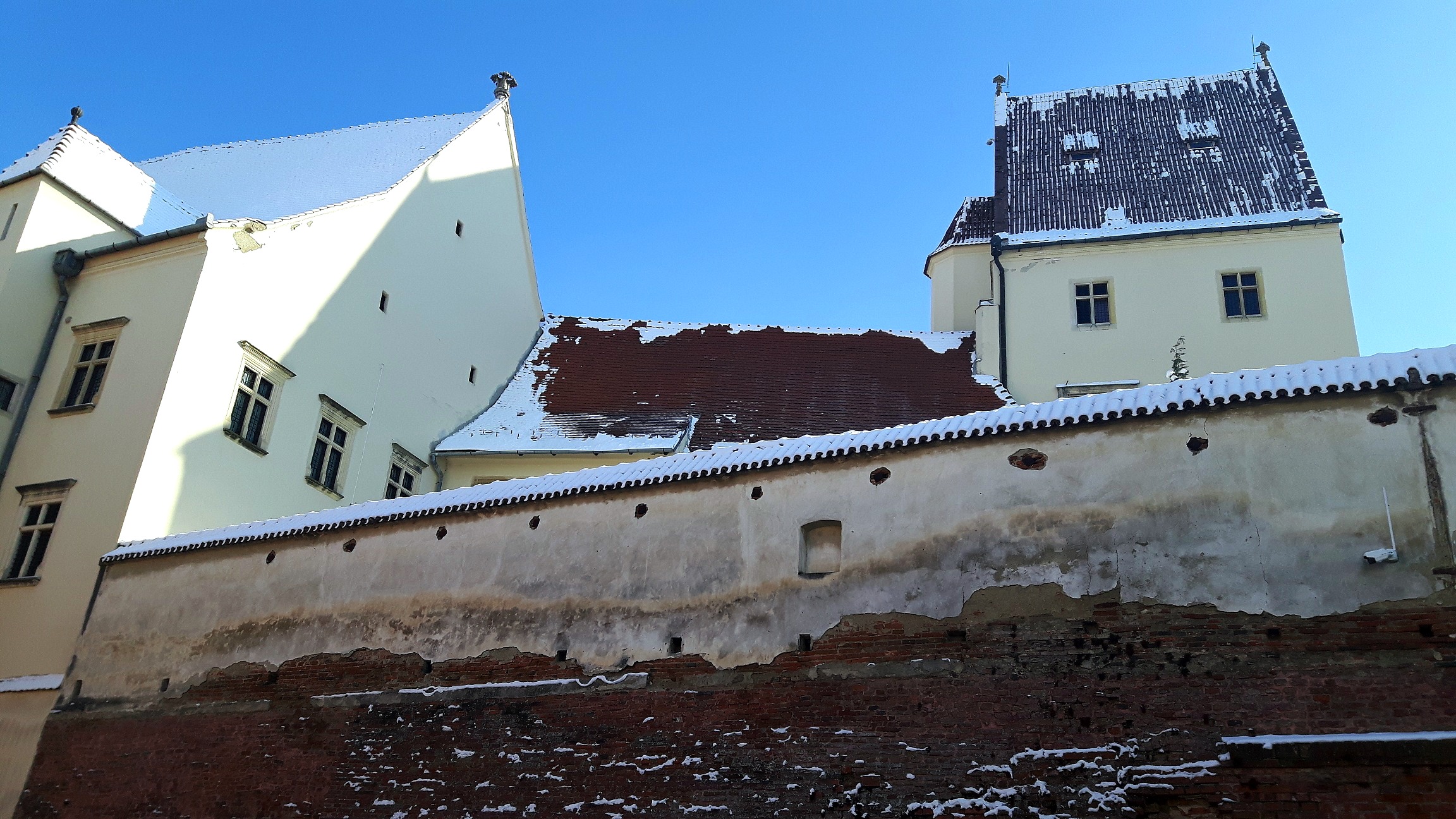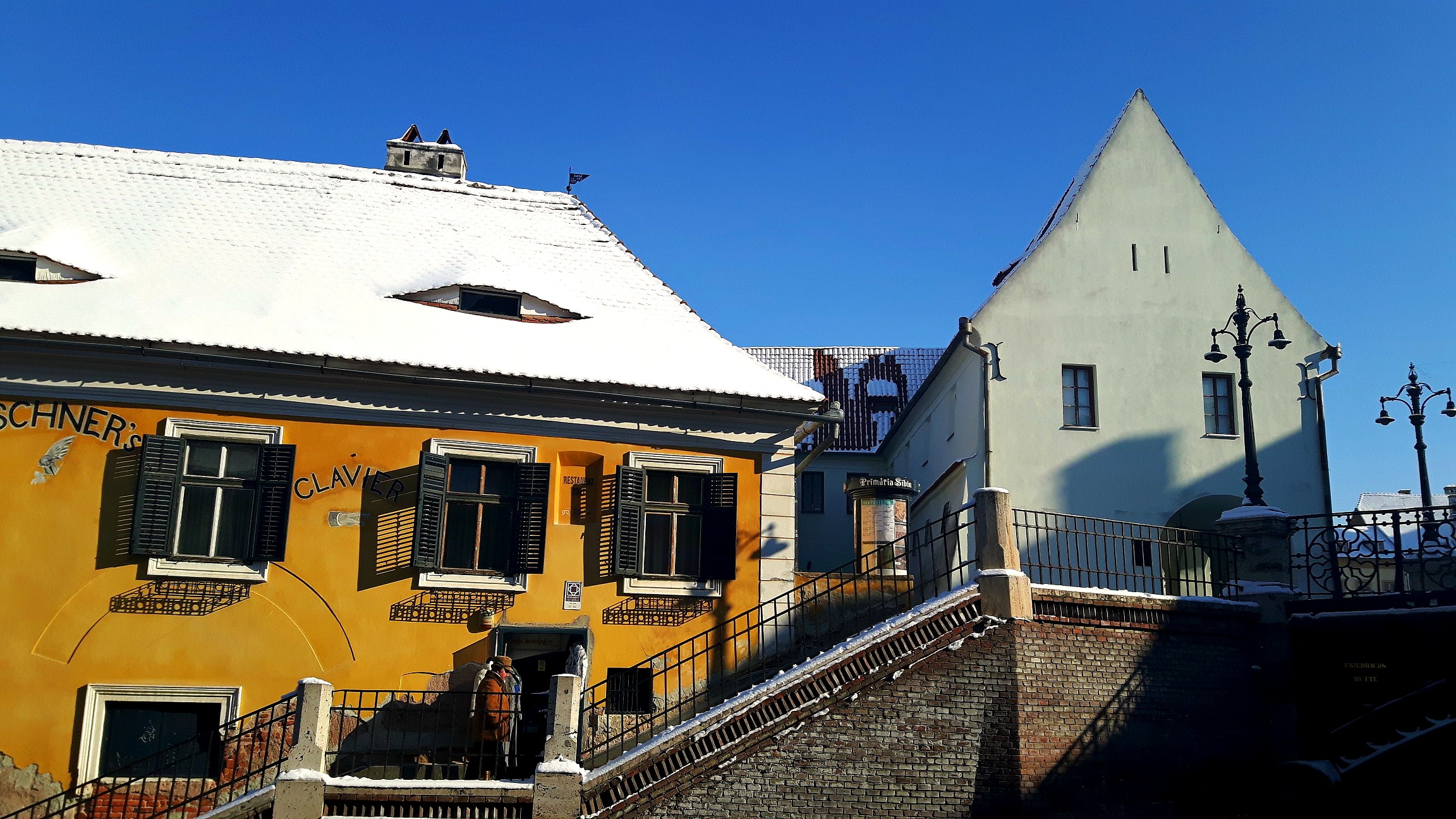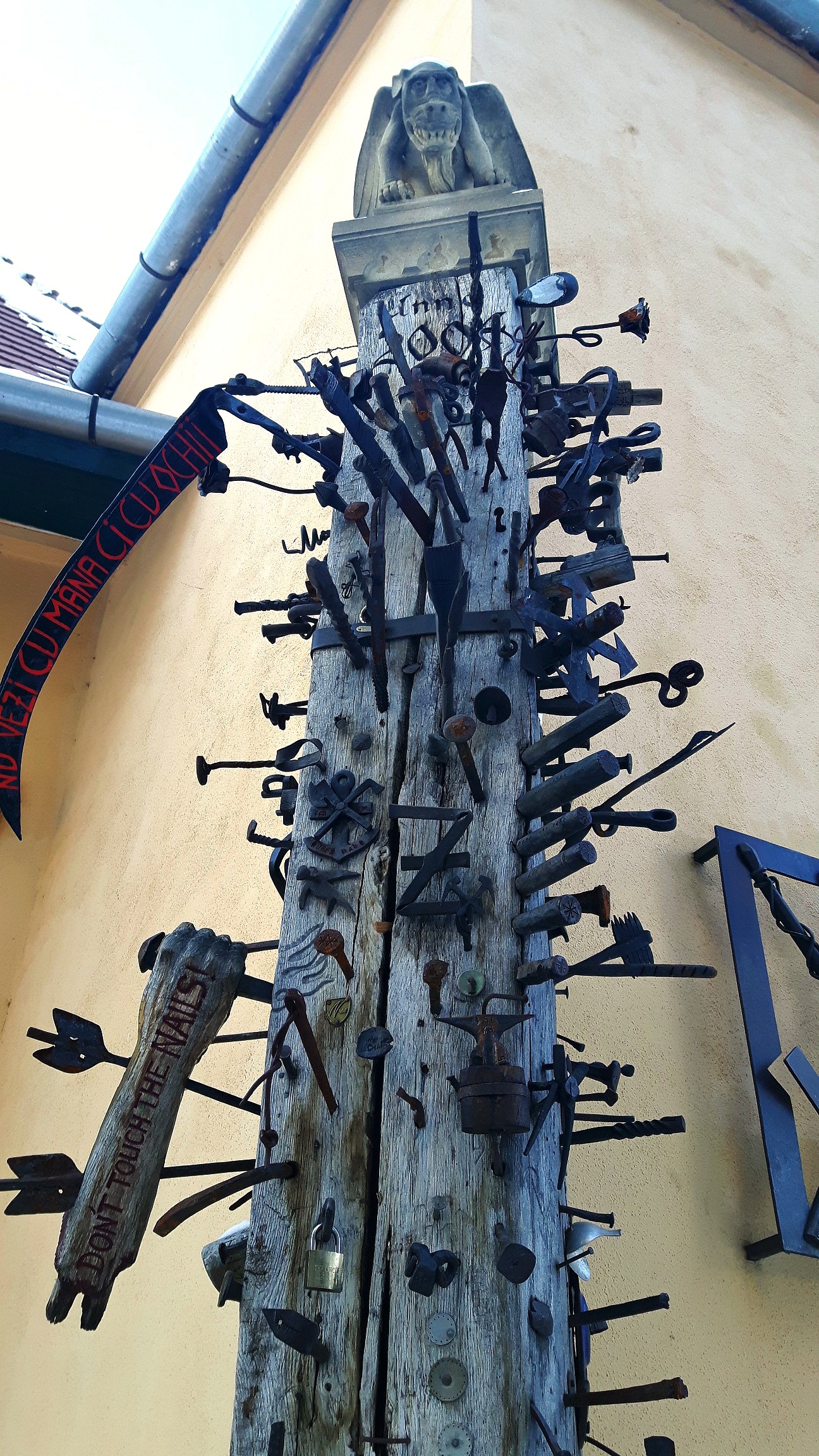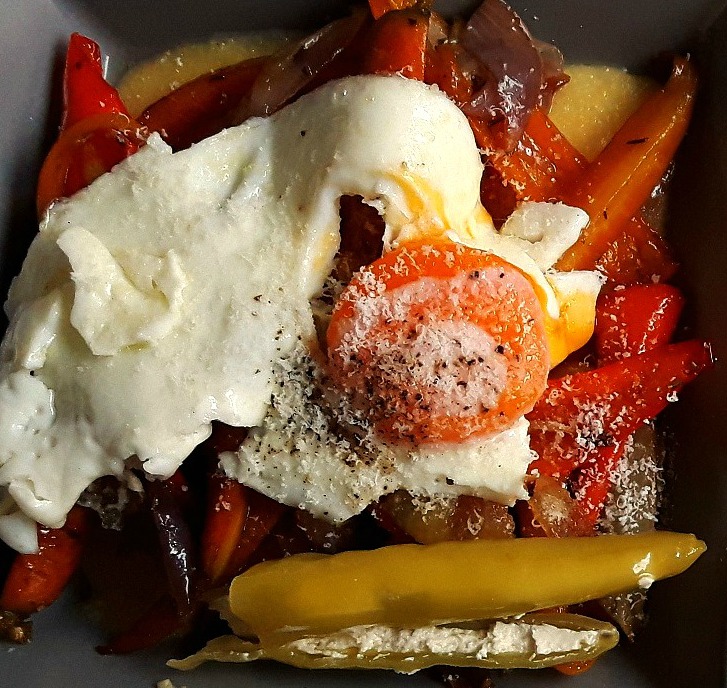 Cheese, sour cream and polenta are not the only pairs made in heaven, because the best way around here to pairing this corn creation is with fried pork sausages (there is a wide variety of sausages around here), white sauce stews, or eggs.
The "marriage" between the humble and fascinating egg and polenta was the one that inspired our lunch today. A combination between polenta, eggs, honey glazed oven roasted vegetables and some parmesan (feta would have been fantastic). Incredible tasty, simple to be made and healthy too.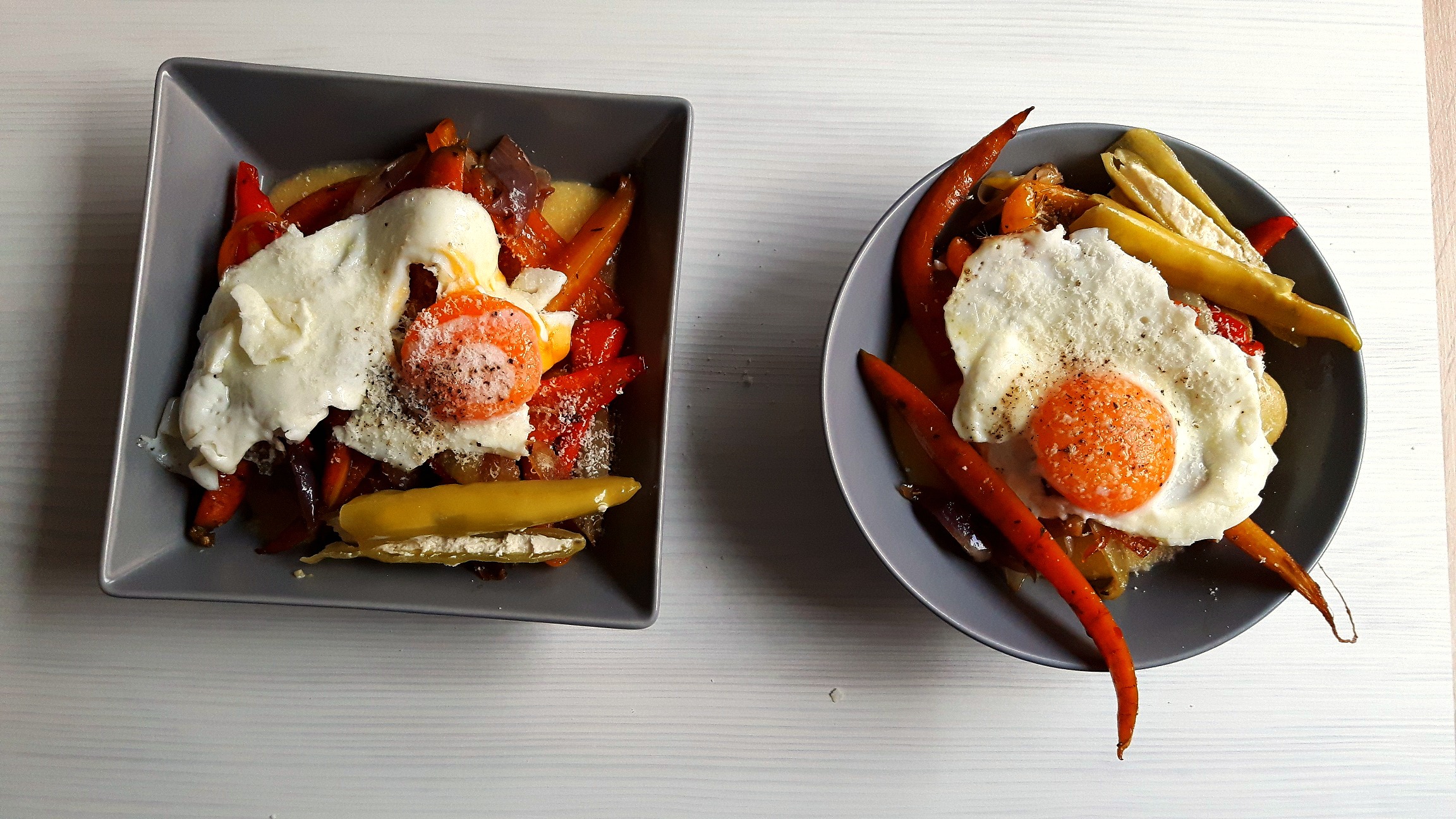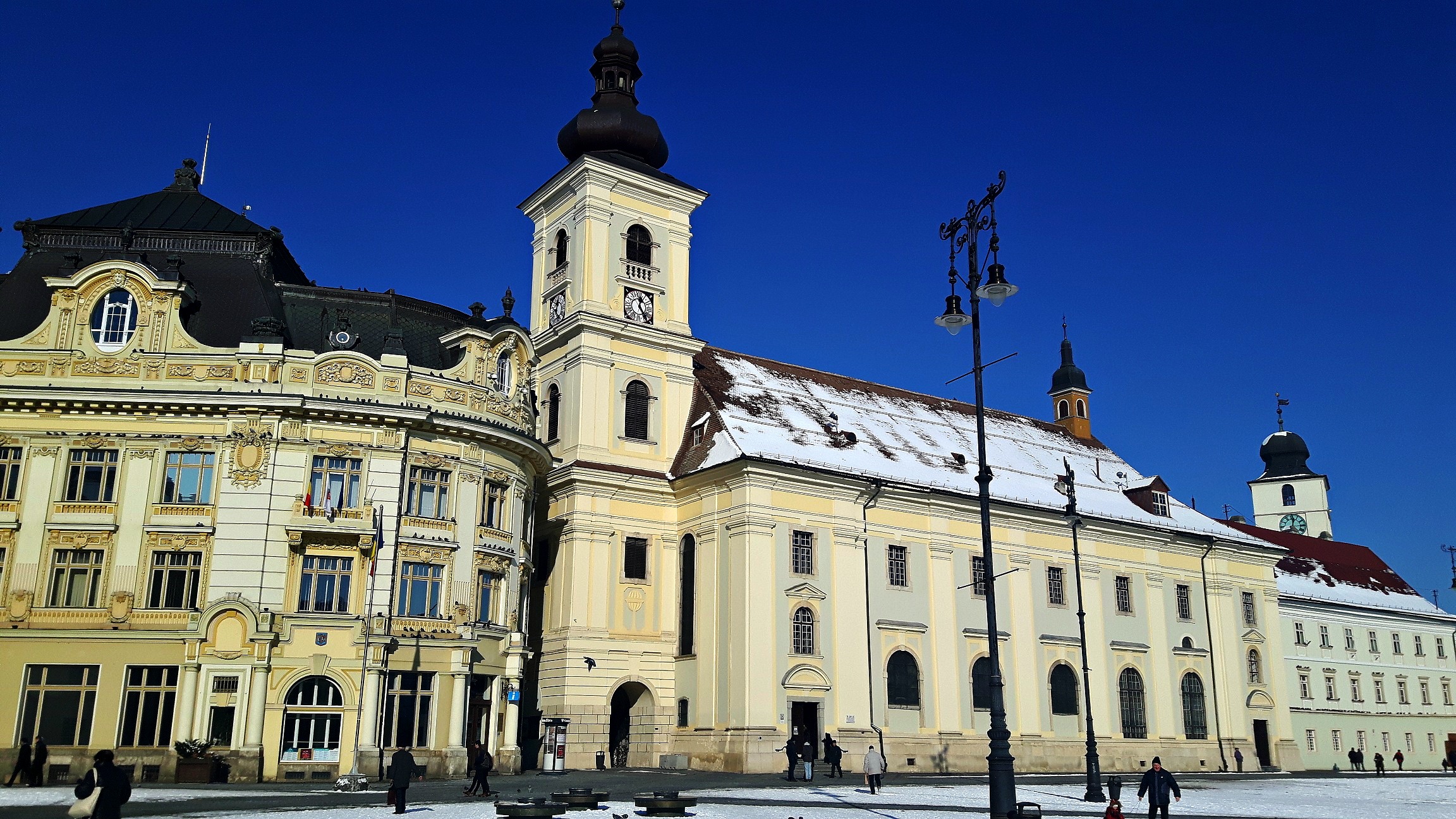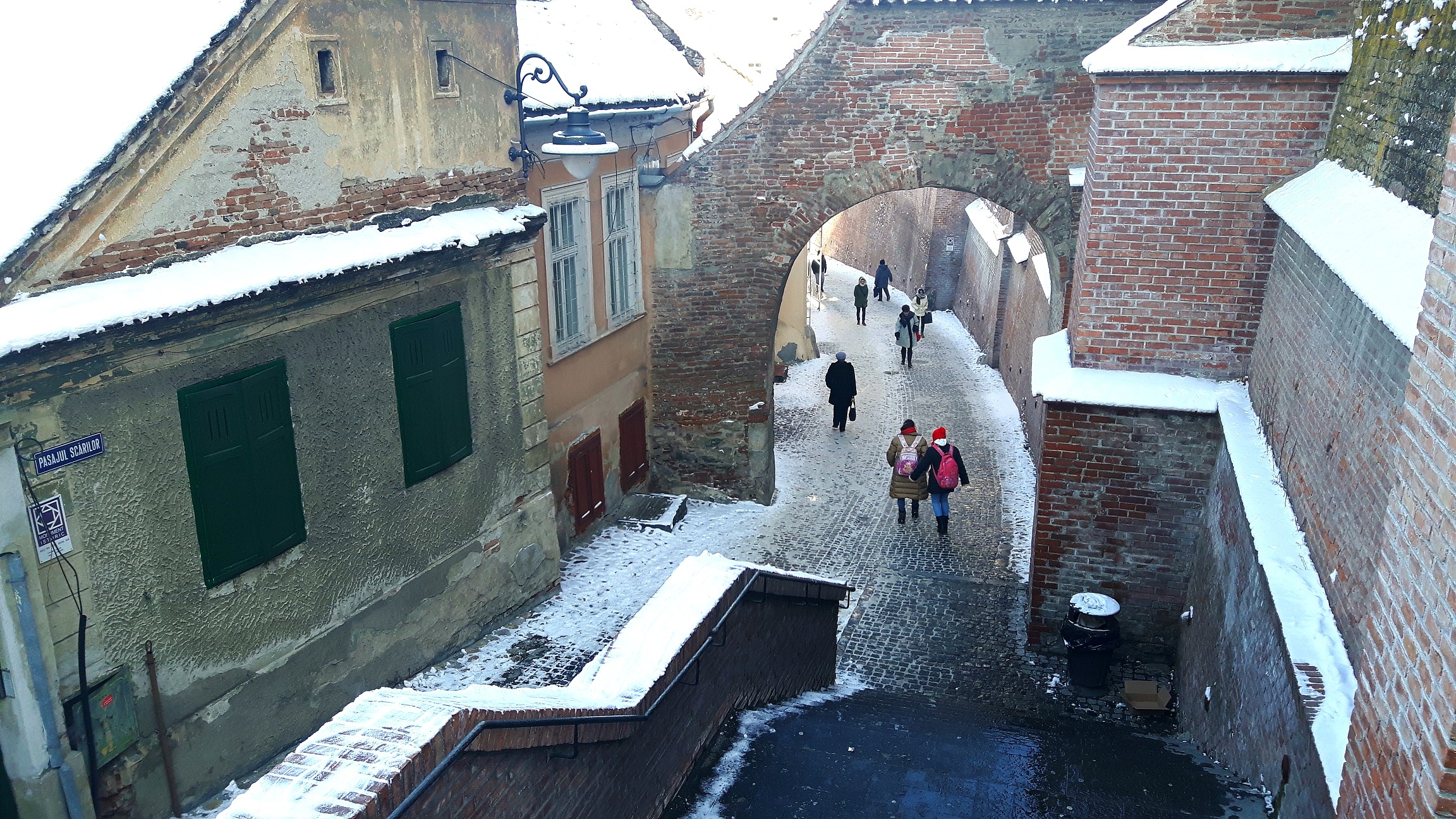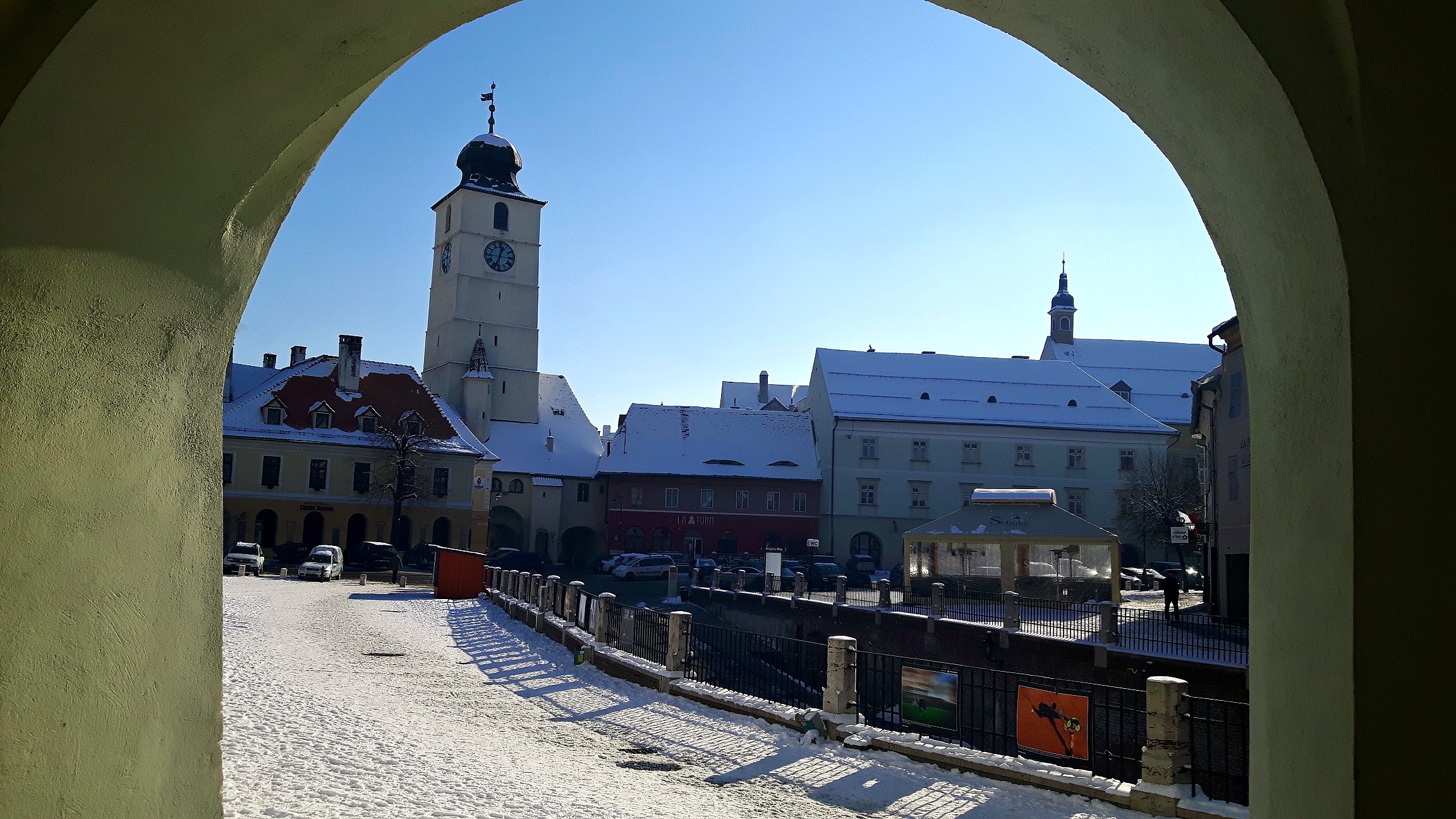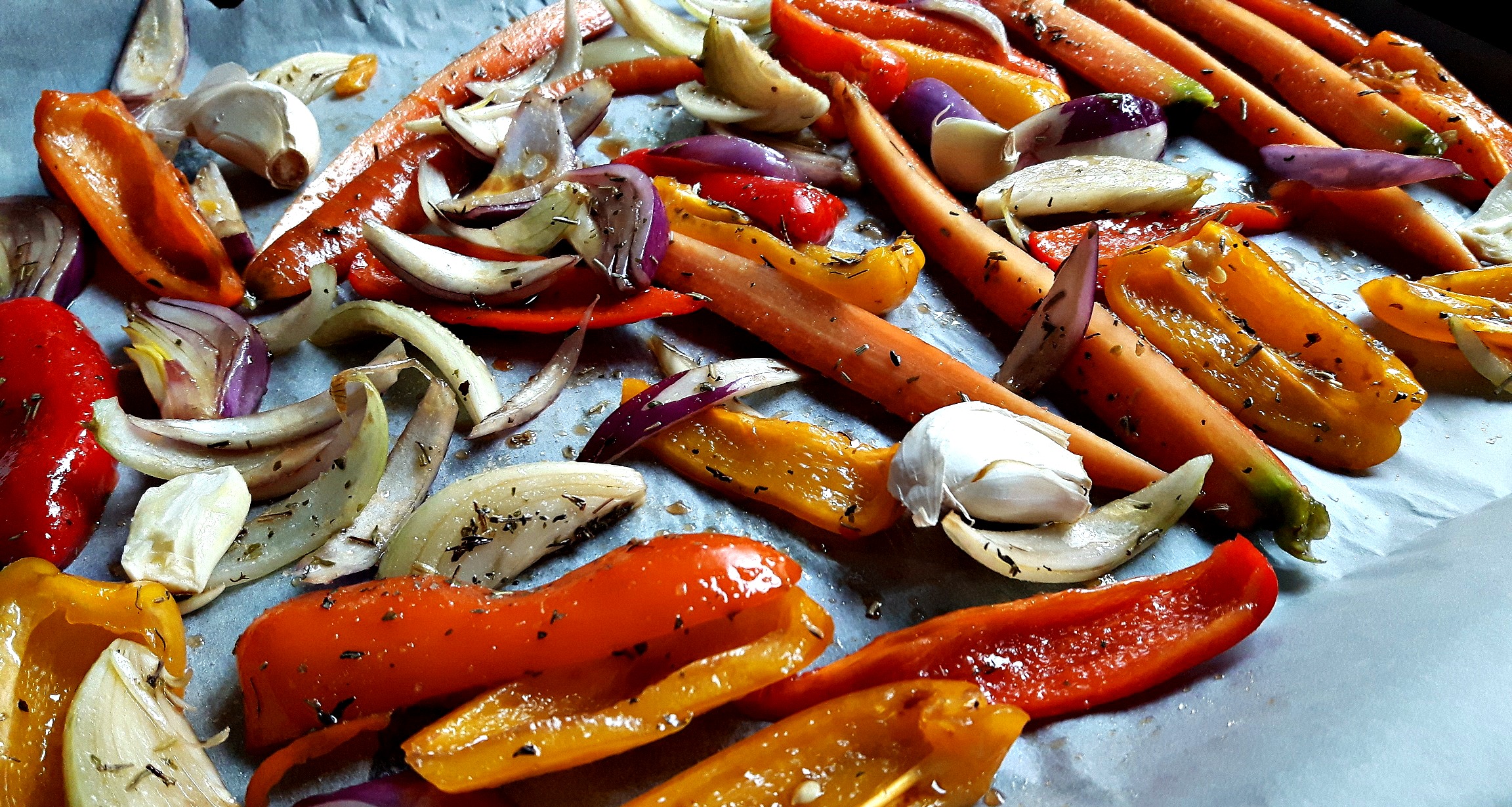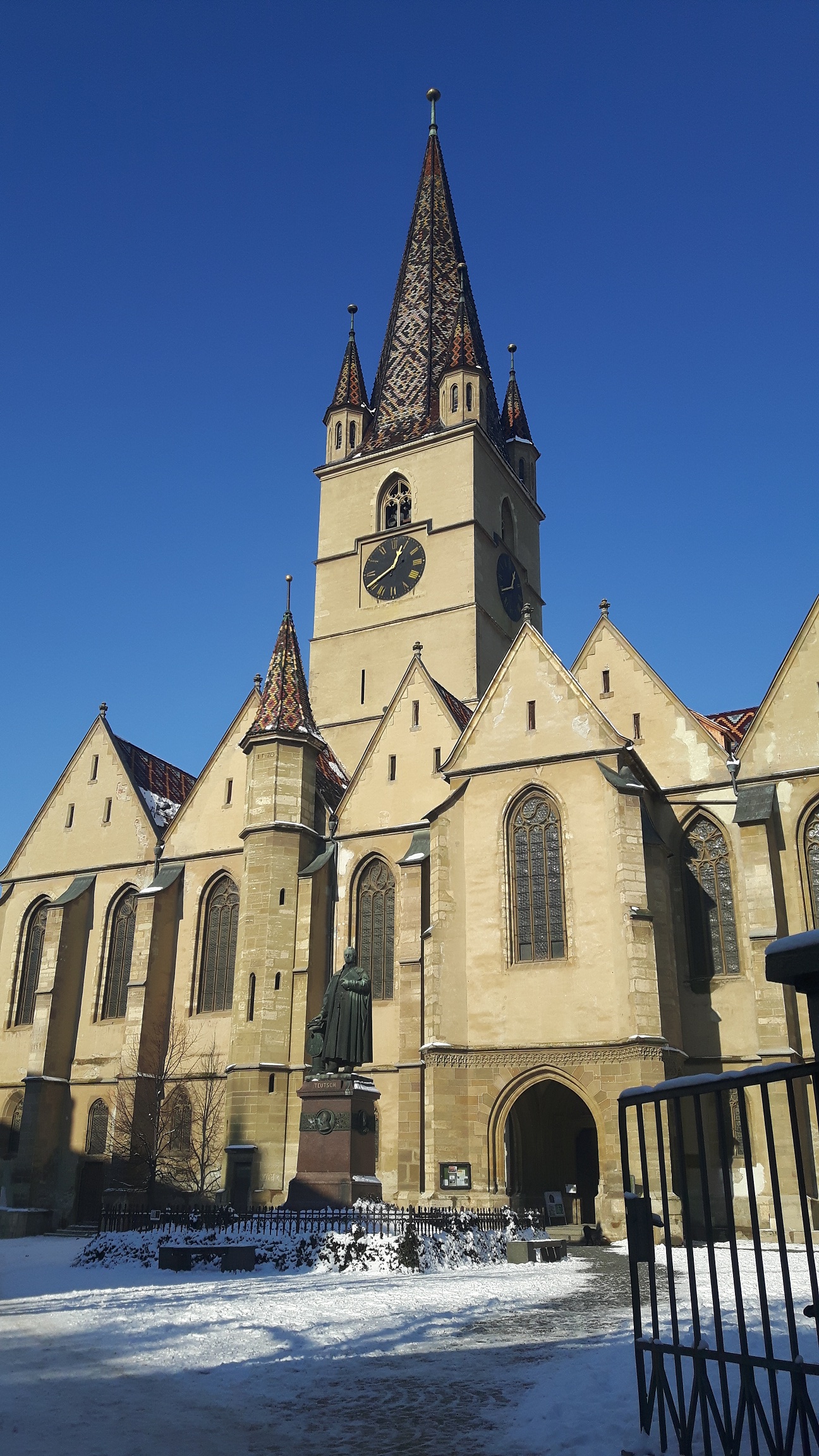 PS. Because I was talking so much about it, I've decided to add pictures with Sibiu, my snowy city. There are just a few shots, so the pictures don't reveal too much, but I guess they' re better than nothing :).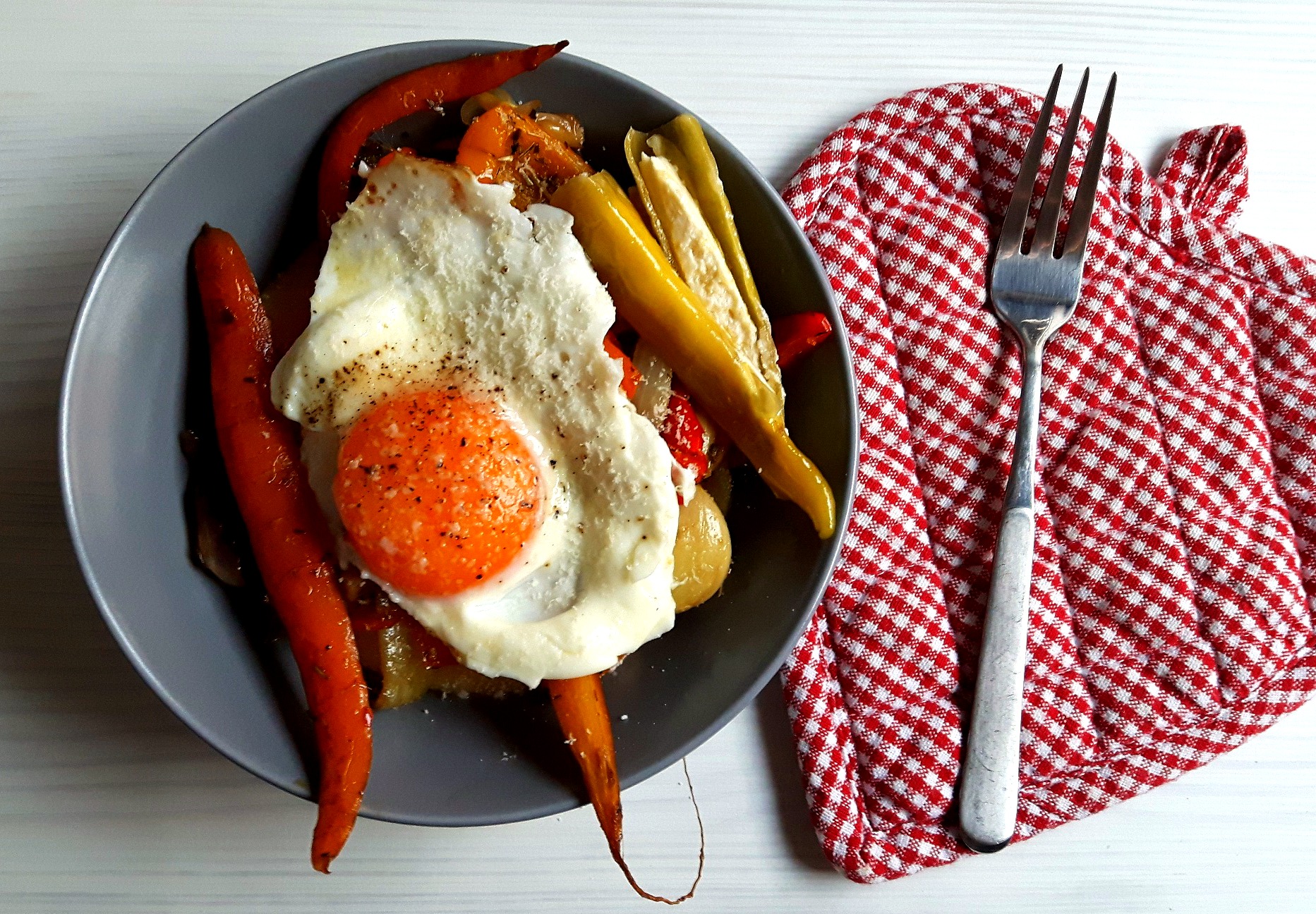 Sunny egg on honey glazed roasted vegetables and polenta
2016-01-28 18:30:31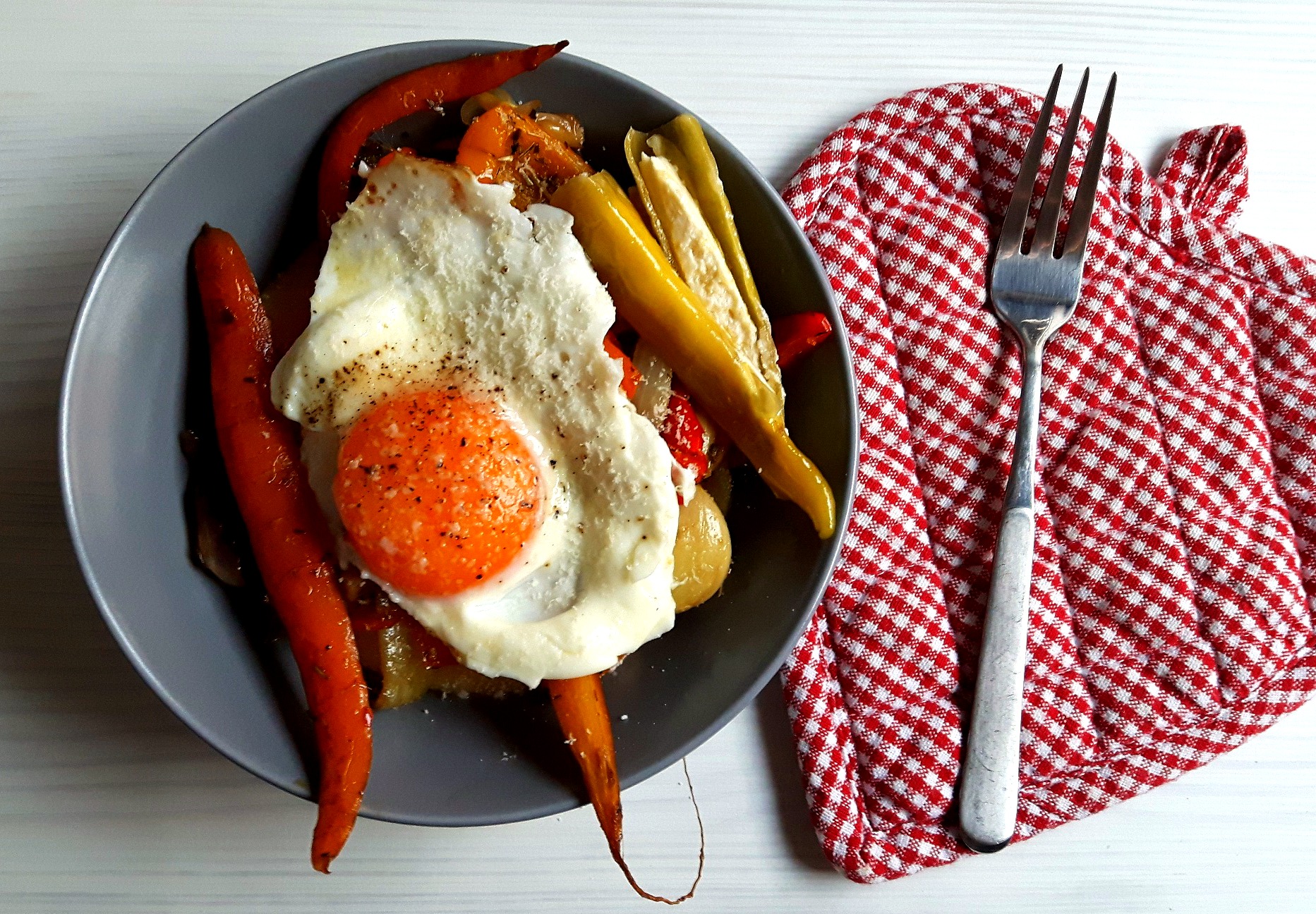 Serves 2
A healthy and incredible tasty lunch
Ingredients
* 2 eggs (one egg for each person)
* corn flour for polenta
* salt and pepper
* 2 carrots
* 2 onions
* 3 big peppers, or 5 small ones, in different colors
* 4 garlic cloves
* 1 tablespoon of dried rosemary
* parmesan cheese
* 1 tablespoon of honey
* 2 tablespoons of olive oil
* 1 tablespoon of balsamic vinegar
Instructions
Preheat the oven on almost maximum heat
Wash the vegetables, take of peppers' seeds, then cut the vegetables in middle chunks
Put the vegetables in a large bowl and pour over the honey, olive oil, balsamic vinegar, dried herb. Stir until all the vegetables are covered in "sauce".
Lay a baking sheet on a tray, put the vegetables on it, add some salt, and the unpeeled garlic cloves. Put the vegetables in the oven on high heat for about 30 minutes
While the vegetables are roasting, make the polenta by adding the polenta corn flour in salted water, stirring constantly to not make lumps, until it puffs and transform into a cream.
Divide the polenta on two deep plates, then take care of the sunny eggs
When the vegetables are ready, take them out of the oven, take the peel out of the garlic, then divide the vegetables on each plate, over polenta. Add salt if needed.
Grate parmesan over vegetables, place the egg over, sprinkle some salt, pepper and parmesan and that's it
Notes
* parmesan is relatively a mild cheese, so if you want to make your dish much tasty, put crumbled feta cheese over your polenta and vegetables
Fine Transylvania - Cooking blog & more - Transylvania reinvented - Recipes and original flavours https://finetransylvania.com/
Comments